Ever dreamed of a career as an actor? Our "DRAMA GAMES" workshop this weekend can make that dream come true!
Dramatic activity is already a natural part of most children's lives in the form of make-believe play, enabling them to make sense of their own identity by exploring meaningful fictional situations that have parallels in the real world.
Children like to move and to interact with others. In drama we ask them to do exactly this. Rather than sitting still and listening they are encouraged to move, speak and respond to one another. This in turn helps them develop such skills as creativity, enquiry, communication, empathy, self-confidence, cooperation, leadership and negotiation. Most importantly, drama activities are fun – making learning both enjoyable and memorable.
So continue the workshop series of Climber Crew – an English Club organized by Everest Education, the topic for this week will be "DRAMA GAMES".
In this workshop, students will explore their dramatic side through learning the fundamentals of drama – body language, tone of voice, facial expressions and character – and through games and activities combine these fundamentals into a short performance.
Our workshop is designed for students at all ages and skill levels. Time and venue as follow:
2nd Floor, 670-672 Ba Thang Hai,  W.14, D.10, HCMC
Sunday, Jun 2nd, 2019
For grades 1 –  6: 9:30am – 10:30am
For grade 7 – 12: 2:30pm – 3:30pm
Register a spot here at https://bit.ly/climberscrew
Door's always open for everyone.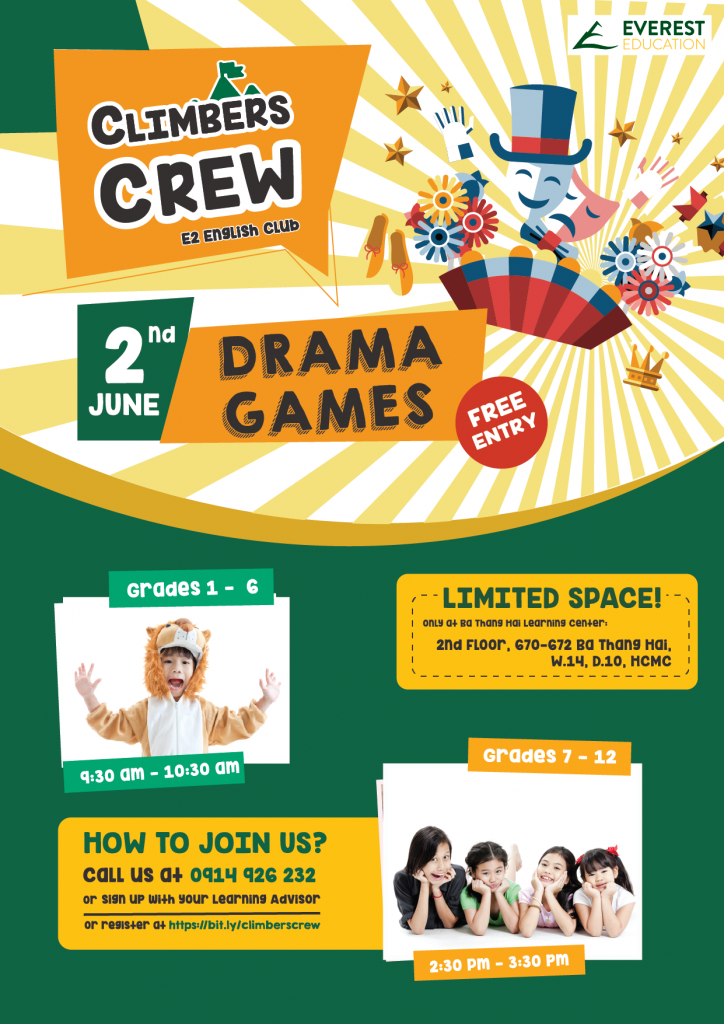 (*) "Drama Games" is one of the activities from Climbers Crew – an English Club organized by Everest Education. We provide free and creative spaces for students at all ages to practice conversational English in the form of interesting workshops. Programs and topics vary from week to week. For the full agenda, click here.
---
Hotline: 0914 926 232