Experience Singapore Math With Your Kids
In a world of fast growing internet and technology, most in-demand careers require outstanding math skills. On average, 7 out of 10 top jobs are in STEM fields, according to CareerCast.com. Even non-math careers require that employees have sharp analytical and reasoning skills when doing tasks that require math. But does your child keep complaining "math is hard"? How do you prepare for your child to adapt to this big shift in future career opportunities?
Singapore has been consistently at the top of many international math rankings and competitions. In the early 1980s, Singapore applied a new way of learning math, which has proven to be especially effective for young kids – the CPA method. Come find out what makes it so special and how might it help your child do better in school at our upcoming event: "Experience Singapore Math With Your Kids".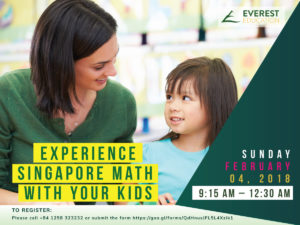 At the event, Everest Education will show you the reason behind Singapore students' success in math, discuss different practical ways to make math fun for kids, and how we at E2 develop a child's interest in math, and show children how to enjoy learning numbers. By participating in the event, you will also have the opportunity to:
Learn about Singapore's famous CPA Approach
Experience a demo class conducted by our E2 teachers
Receive special promotions ONLY available to attendees of the event
TIME & VENUE
– TIME:
Sunday, February 4, 2018. You can choose 1 of 2 sessions:
Session 1: 9:15 am – 11:45 am
Session 2: 10:00 am – 12:30 pm
– VENUE :
Everest Education's Phu My Hung Learning Center
06 Ton Dat Tien, Garden Plaza 2, Tan Phong, D7, HCMC
This event is especially suitable for primary school students and all classes will be taught in English.
TO REGISTER
Please fill in this form or call us +84 1258 323232.
Contact Us For Program Inquiries & Registration