Debate skills is one of the most important skills for every student, especially when they jump into international environment.
Competitive debate is not just one of the "great equalizers" for minority achievement and educational opportunity, but also a best practice to produce dynamic Americans proficient in the 4 "Cs" of 21st century skills—critical thinking, communication, collaboration, creativity.
That's why the next workshop of Climbers Crew – an English club organized by Everest Education will focus on "DEBATE".
In this workshop, students will explore their rhetorical ability through learning the fundamentals of debating – affirmative, negative, constructive argument, rebuttal – and applying these concepts in a real mini debate on a relevant topic.
Our workshop is designed for students at all ages and skill levels. Time and venue as follow:
2nd Floor, 670-672 Ba Thang Hai,  W.14, D.10, HCMC

Sunday, May 19th, 2019

For grades 1 –  6:

9:30am – 10:30am

For grade 7 – 12:

2:30pm – 3:30pm
Register a spot here at https://bit.ly/climberscrew
Door's always open for everyone.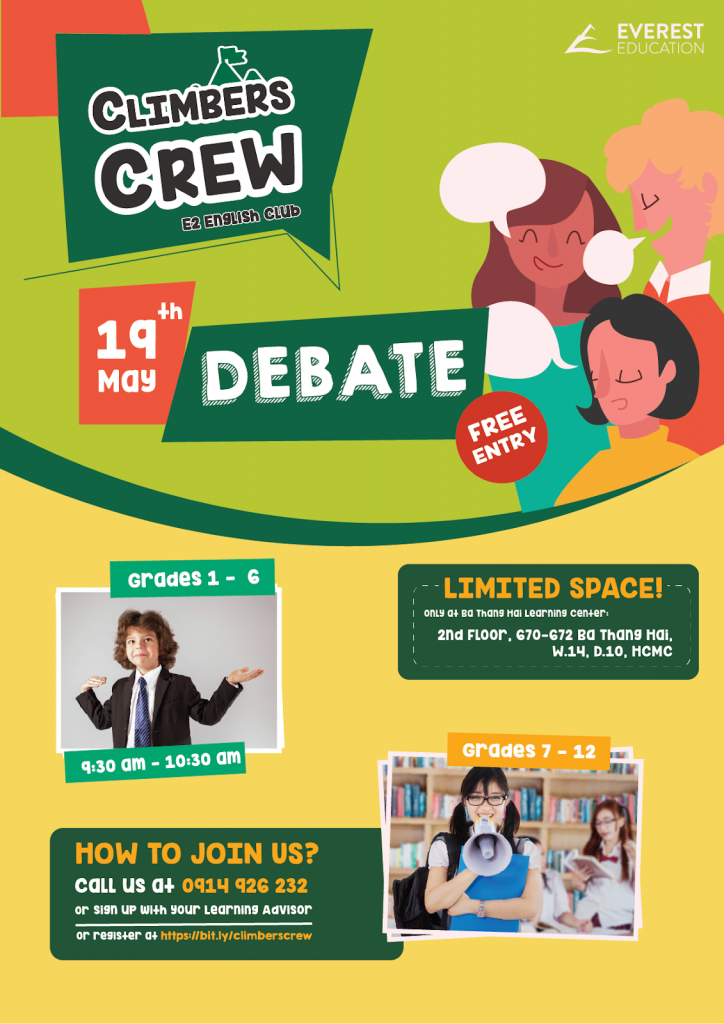 (*) "Debate" is one of the activities from Climbers Crew – an English Club organized by Everest Education. We provide free and creative spaces for students at all ages to practice conversational English in the form of interesting workshops. Programs and topics vary from week to week. For the full agenda, click here.
---
Hotline: 0914 926 232