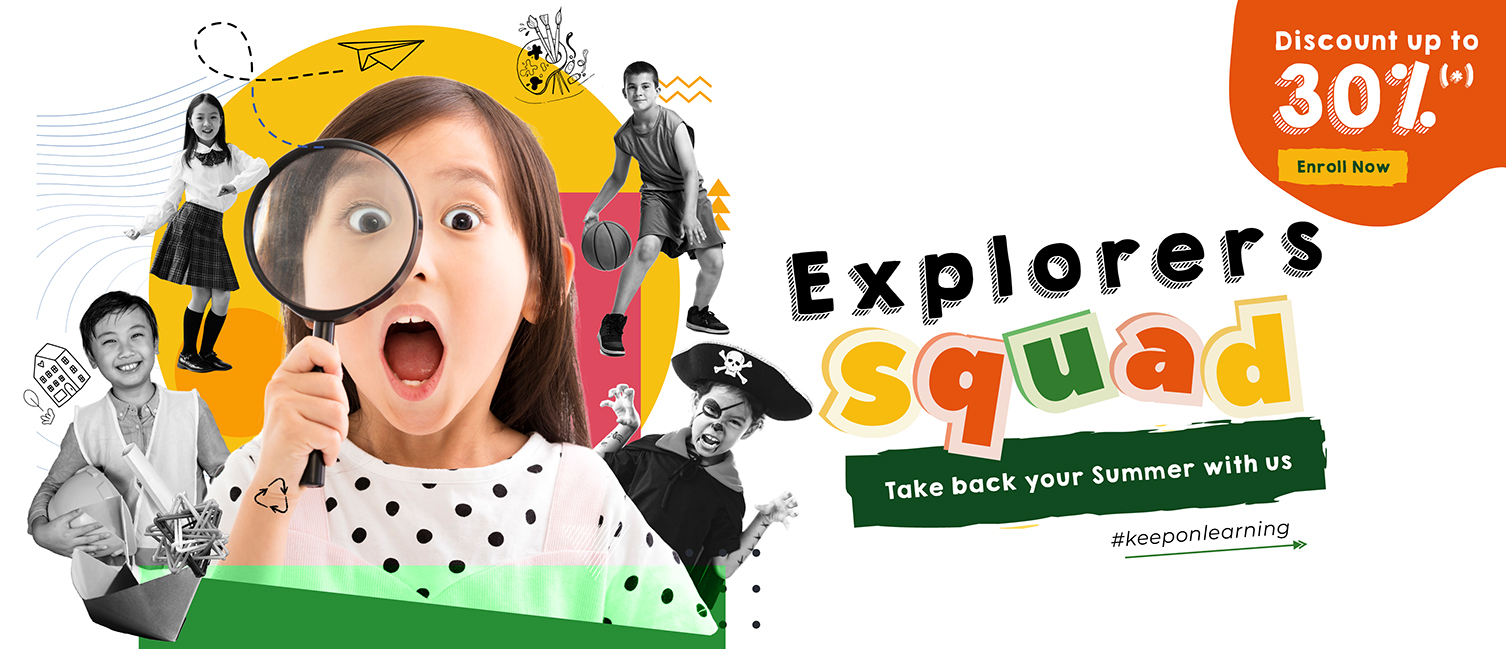 TAKE BACK YOUR SUMMER WITH US
Everest Education has been a trusted camp partner and provider for over 9 years. We've worked with great international and bilingual schools such as SSIS, ISHCMC, AIS, TAS and VAS.
It's Summer-time once more! This year, Everest Education is looking to recruit young members for our Explorers Squad who will undertake an exciting, memorable and fun journey together. Our Explorers Squad provides amazing opportunities for your kids to learn and play in curious ways through many stimulating lessons: hands-on science, technology, engineering, art, drama, sport and math activities in a 100% all-English environment.
This is a journey which will boost the energy level of every child as we task our Explorer squad in unleashing their creativity through designing, inventing, applying, and creating – using their higher order thinking skills in unique and exciting projects, which will test both their mental agility as well as their physical strength. If you are looking for a playground that can sparkle your child's summer days, improve their confidence and teamwork skills and have fun together with their friends, the Explorers Squad is the perfect choice to meet all your expectations.
Designing with Water
Water plays a very important role in daily life and in the first week, our squad will discover how water affects their lives and then work together to design some water-related machines to solve the problem water sometimes brings to our life.
Transportation
The transportation system around us is very diverse, from road vehicles to air vehicles or sea vehicles. By taking a look at how we get around, our squad will think about how we might move around in the future.
Community Safety
Equipping knowledge with the face of social problems is really essential for our squad to not only protect themselves but also protect others from possible dangers that can happen at any time in our daily life. The squad will then collaborate to invent new safety prototypes in order to save some eggs from a terrible fate!
Architecture
In this time of climate change, humans have witnessed many natural harmful effects that can destroy man-made structures. Therefore, learning about making buildings safe from natural occurrences to protect people living and working inside and outside that architecture is the mission of our squad this week. Applying that knowledge, the squad will work in teams to build models to help people survive natural disasters.
Community Health
Protecting community health is an important task that requires high individual awareness. First of all, our squad needs to take a look at the things that keep us mentally and physically healthy. They will then investigate some of the solutions we use day to day to save the community as a whole.
Environment
To raise awareness of environmental protection, this week, our squad will take a look at the human impact on the environment and find effective ways to solve environmental problems by learning how to reduce waste that causes bad effects on the environment such as plastic bottles, plastic bags, straws, recycling and reusing of waste. And then, they will together create recycled items that not only apply in life, but also protect the environment more cleanly and beautifully.
For grades 2 – 9

Course duration

: 6 weeks, starting from 

Jun 15, 2020.
Week
Week 1
Week 2
Week 3
Week 4
Week 5
Week 6
Topic
Designing with Water
Transportation
Community Safety
Architecture
Community Health
Environment
9:00 - 12:00
- English Language Development (Monday, Wednesday, Friday)
- Sports (Tuesday, Thursday)
12:00 - 13:30
Lunch Break
13:30 - 16:00
- 2 STEAM Projects
- 1 Art Project
- 1 Drama Project
- 1 Competition or 1 Performance
This schedule is subject to change.
PROMOTION
Any family who enrolls for 2,3,4,5 or 6 weeks camp will receive 5%, 7%, 10%, 15%, or 20% discount respectively off tuition fee.
An additional 10% off tuition fee for any registration from May 25 to June 20, 2020.
An additional 5% off tuition fee for any registration from June 22 to July 11, 2020.
(*) Terms and conditions apply.
SIGN UP AND GET UP TO 25% DISCOUNT (*)
Contact Us For Program Inquires & Registration